Lara Abrash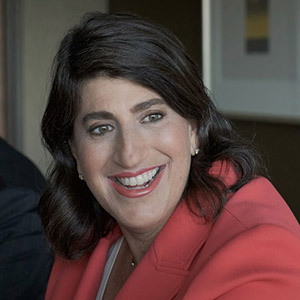 Chairman and CEO,
Deloitte & Touche LLP
Alma Mater:
Baruch College-The City University of New York
The Zicklin School of Business
United States
Area of Impact:
Financial Services
In June 2019, Lara Abrash was appointed CEO of the Deloitte US Audit & Assurance business, where she is responsible for overseeing all aspects of the organization, including execution of the quality, innovation, growth, and talent strategies. She is also a member of the US Audit & Assurance Executive Committee and the US Executive and Management Committees.
Prior to her current role, Abrash served in a number of leadership roles during her career at Deloitte: chief operating officer, national Audit & Assurance transformation leader, and deputy CEO of the Audit & Assurance business. While serving in each of these leadership roles, Abrash also maintained significant client responsibilities, including for the firm's largest and most complex clients.
As national Audit & Assurance transformation leader, she was instrumental in pioneering Deloitte's leading position to transform the audit profession through technology and innovation. Her leadership philosophy is based on her deep understanding of multinational clients in various industries, her leadership roles and experiences, and her passion for advancing innovation and inclusion in the profession.
Abrash also served on the Board of Directors of Deloitte USA LLP, where she was chair of the Finance Committee and a member of the Evaluation Committee and the Strategic Committee. Through these roles, Abrash built strong relationships with Deloitte's national and regional leaders around the world.
Recognized as a leader in the public accounting profession's drive to continuously improve audit quality, Deloitte's public company audit clients total 7.6 trillion USD in market capitalization. Along with the nearly 11,000 professionals comprising Deloitte's 5 billion USD Audit & Assurance business, Abrash plays a crucial role in delivering exceptional value and insights to clients and the capital markets.
Abrash's leadership extends to her community and other important causes. She is involved with the New Jersey Battered Women's Service, where she previously served as the treasurer. In addition, Abrash's passions for inclusion and diversity as well as innovation and technology come together through her involvement with the Girls Who Code organization, whose mission is focused on closing the gender gap in technology. Finally, Abrash is a member of the Financial Accounting Standards Advisory Council, which advises the Financial Accounting Standards Board (FASB) on issues related to projects on its agenda, possible new agenda items, project priorities, procedural matters that may require the attention of the FASB, and other matters as requested by the chairman of the FASB.
Abrash was recently named one of the 2019 Women of Power and Influence honorees by the National Organization of Women in New York City. She also maintains an ongoing commitment to her alma mater, Baruch College, where she has served as a board trustee. In recognition of her dedication and leadership in the profession, she was recently honored by the Baruch College Alumni Association as a recipient of the 2019 Alumni Business Leadership Award. In September 2019, Abrash was named to Crain's "Notable Women in Accounting & Consulting" list for 2019.
Abrash is an authentic leader who can relate to her colleagues from partners to staff and be viewed as an ambassador for change. She is collaborative and pragmatic in communications and is adept at integrating Deloitte's technical and industry specialists into audit teams to provide in-depth perspectives and enhanced insights. She is known for developing, motivating, and leading teams of diverse perspectives by reducing conflict in a productive manner to amplify collaboration and drive outcomes.