Businesses

Educators
International Conference and Annual Meeting (In-Person)
This April, we are proud to convene the largest global gathering of business school leaders at AACSB's International Conference and Annual Meeting.
Event Type

Conference
Hotel and Travel
Event and Hotel Location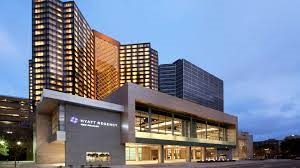 Click here to make your reservation
Hyatt Regency New Orleans
601 Loyola Avenue
New Orleans, Louisiana 70113
Tel. +504 561 1234
Hotel Reservations
AACSB group block rate: 239 USD per night, single/double occupancy, plus tax of 15.20% plus 3 USD per room per night
Includes complimentary in-room Wi-Fi.
Group block cut-off date: Thursday, March 31, 2022 - sleeping rooms are based on availability and may sell out prior to the cut-off date.
*Click here to book your hotel reservation.
Each delegate is responsible for making his or her own hotel reservation. The cost of the hotel room is not included in the registration fee.
Any guestroom changes, cancellations, etc., are the delegate's responsibility and must be made directly with the hotel according to the guidelines below in order to avoid financial penalty.
Cancellation: All reservations must be guaranteed by a credit card, money order or deposit check. Individuals with guaranteed reservations must cancel their reservation 48 hours prior to the scheduled day of arrival to avoid a one-night cancellation charge.
When making arrangements through travel websites or an agent, the negotiated AACSB rates may not always be available. Please request your travel agent to book your room in the AACSB-negotiated room block for the event.
Third-Party Companies: We have been made aware that third-party companies are contacting our attendees, introducing themselves as the official 'housing bureau' for the event. This is not the case. EHS, Global Expo Travel, Exhibitor Travel Bureau, and Business Travel Management are not affiliated in any way with AACSB or with the Event Hotel Location. If you booked through these companies, we believe that your information may be compromised and we would strongly recommend that you do not give any personal information, including credit card details. If you receive an e-mail from these companies, please forward to it to

[email protected]

.
Local Parking and Transportation
Local Dining and Entertainment
AACSB's Health and Safety Commitment and Guidelines
AACSB's top priority is the health and safety of our event attendees and staff. We are working with our partners and vendors to develop protocols that will continue to evolve to reflect the current state of the pandemic response and ensure the safety for everyone in attendance. We will continue to monitor and follow mandates required by federal, state, and local jurisdictions, as well as the guidance from the Centers for Disease Control and Prevention, and World Health Organization.
AACSB is committed to bring you highly engaging learning and networking experiences in a variety of modalities. If you are vaccinated and comfortable gathering with your peers, please join us in-person. If you are not vaccinated and/or uncomfortable gathering with your peers, please join us virtually. We are committed to your health and safety and delivering highly relevant content to you in a way that is convenient and valuable.
PLAN AHEAD

Get Vaccinated: If you are making plans to attend the event in-person, we strongly encourage you to get your vaccine as soon as it is available to you. We recommend that you are fully vaccinated (14 days after your vaccine shot) prior to traveling to the event. If you will not be fully vaccinated by the start of an in-person AACSB event, please join us virtually.

Know Your Local Travel Protocols:

If you are attending the in-person event, please make sure you fully understand your local government travel restrictions and return protocols. In addition, please review the

current guidelines

for the city of New Orleans.
ONSITE SAFETY PROTOCOLS
Masks Are Required:

Disposable masks will be provided to attendees who may forget or misplace their own. We recommend that attendees read the

U.S. Centers for Disease Control and Prevention guidelines

for best practices regarding usage of masks.




Hand Sanitizing Stations Provided: We recommend that attendees utilize hand sanitizing as often as possible throughout the event. We also encourage you to wash your hands frequently with soap and water for at least 20 seconds and avoid touching your eyes, nose, and mouth with unwashed hands.

Physical Distancing: Will be practiced when available and based on federal, state, and local jurisdiction guidelines. We ask that attendees do not move chairs between tables. Session and total attendance will be capped based on physically distanced floorplans and capacities.


Enhanced Cleaning and Sanitization:

Meeting rooms will be thoroughly cleaned between each session according to the hotel's comprehensive cleanliness standards. Here is more information on

Hyatt's Global Care & Cleanliness Commitment

.
Visa Invitation Letters
AACSB International's policy requires attendees be registered and paid in full to receive a visa invitation letter. If you have an invitation letter request, please email [email protected]. Please allow up to 2–3 business days for a response.